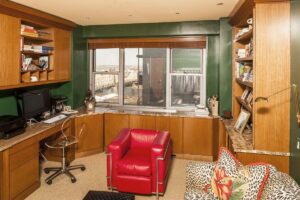 When the global pandemic hit, many employees left the office to work remotely, planning to return to the office at the end of the pandemic. However, almost two years later, many of us still work from home, a trend predicted to continue even after the pandemic subsides. Consequently, a significant home building trend of 2022 includes creating aesthetically pleasing workspaces or offices within a home. A home office space should accommodate the essential functions and needs of the user, and enhance their productivity and comfort.
Six tips for optimizing your home office space:
Clear Separation from Personal Space: Designating a quiet work area separate from your personal space will ensure privacy as well as visual and physical separation, vital for your home's tranquility. Functioning Windows: Windows provide natural lighting and ventilation, to energize and improve your productivity and well-being. Biophilic design: Plants can increase productivity by enhancing concentration, reducing stress levels, and improving indoor air quality. Office Colors: Warm, neutral closure will create a comfortable and soothing feel while soft whites can make the area appear more expansive. Strong Internet Connection: The design of the space must include a strong internet connection with the right light balance to ensure clear (unskewed) computer-based meetings. Convert to Conference Room: To accommodate in-person gatherings, install a modular flip-top conference table that can instantly convert your home office into a home conference room.