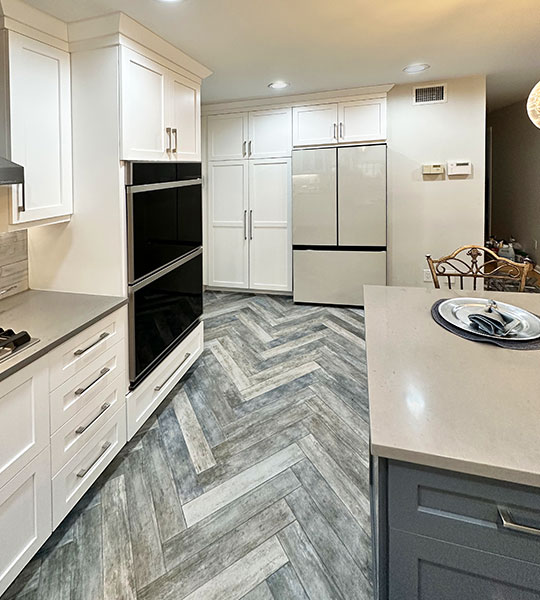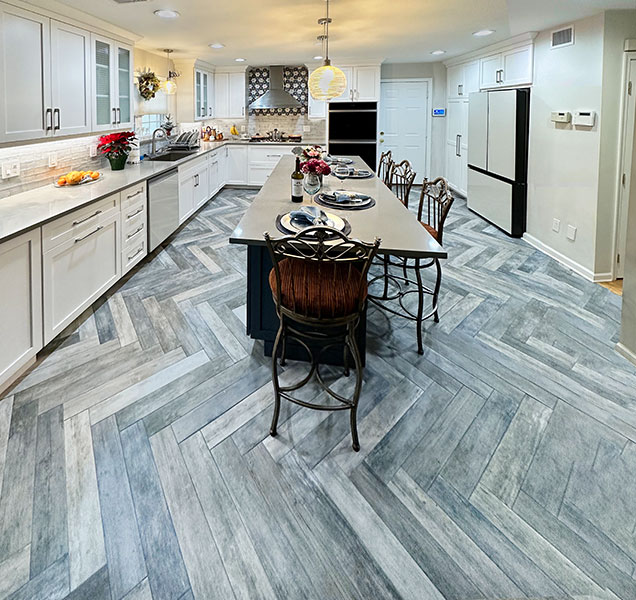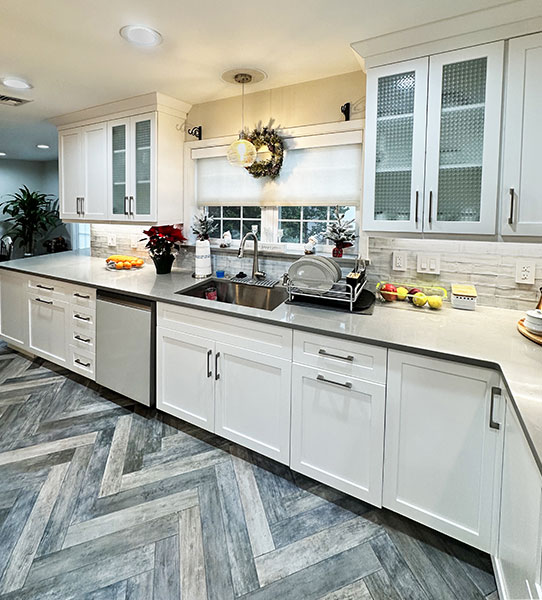 Are you in need of a personalized and seamless design experience for your next home project?
Then Abbey's has what you need!
Luxury Design for Residential Kitchens, Baths & Interiors
We tailor our designs to your unique style and needs, ensuring that you get exactly what you envision! Our team will suggest top-quality products that align with your goals and budget, and we'll handle the coordination of local contractors who are fully qualified and licensed, to ensure flawless execution! From start to finish, Abbey's will be by your side to make sure your project goes smoothly. Let us bring your dream home to life!
Live Your Life in Rooms You Love!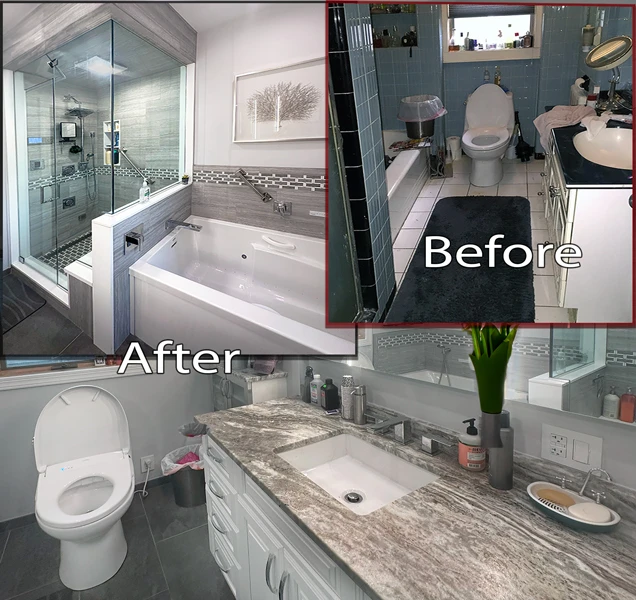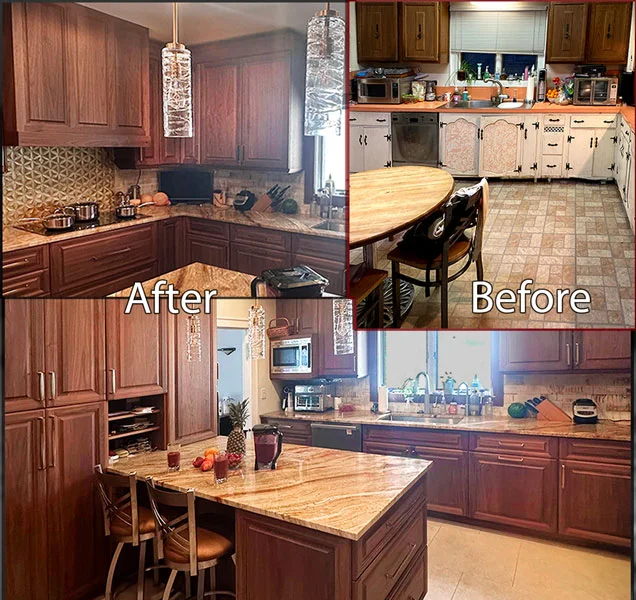 The Industry's BEST Warranty
Abbey's offers you a 2-year warranty on labor & materials
No one else does that!
Phone now for an appointment:
201-823-2223
From Design to Build
For 30+ years, Abbey's has designed residential luxury kitchens, bathrooms and creative interiors in Northern, New Jersey for homeowners with sophisticated taste. We start with the design work, help you on select cabinetry, lighting, flooring and fixtures, and manage the project's construction right to the finish!
** Use your mouse or finger to slide the circle to see the starting design and the finished bathroom views.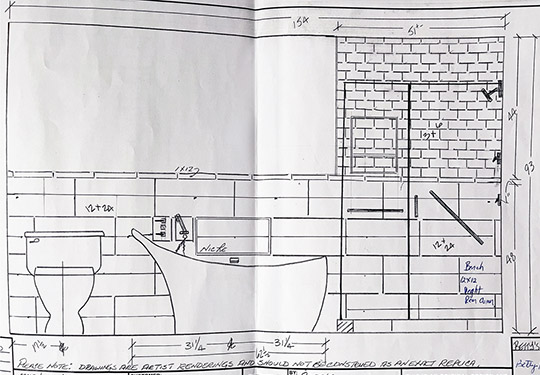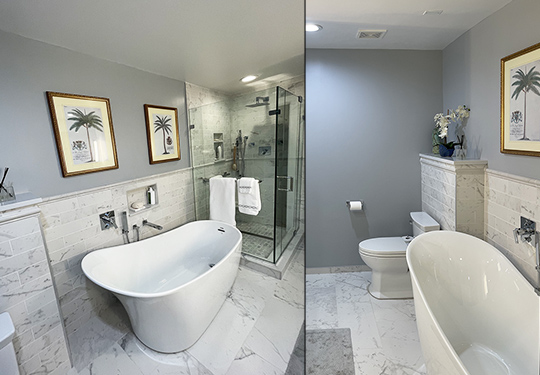 decorative background image of a dark gray themed kitchen remodel
Why Abbey's?
For more than 30 years, Abbey's has been the trusted name in New Jersey / New York metropolitan area for luxury design for residential kitchens, baths & interior spaces. The Abbey's name is synonymous with style, quality design, and rich, custom detail.
It's what sets us apart from the rest.
Sharon Krasnoff
April 26, 2021.
Abbeys remodeled my master bathroom and did an amazing job! Everything I asked for was done perfect and it looks fantastic. The owner Steve was so friendly and easy to work with. Very professional and he helped me design and gave me great ideas. I would recommend them to everyone. I will also be calling to have my kitchen remodeled with Abbeys and I know it will be done with ease and look fantastic!
Betty Palm
April 21, 2021.
We recently remodeled two bathrooms and completely gutted both. Stephen and his crew of professional craftspeople did an excellent job; the master bath and second bath are a dream. From the selection of tiles, cabinets, free-standing tub, faucets and related fixtures, the end result was fantastic. Stephen supervises the project from start to finish, and the renovation came in on time and on budget. Stephen displays a strong customer service orientation and keeps you informed every step of the way.
Phyllis Meltzer
April 21, 2021.
Abbey's Kitchens & Baths remodeled my beautiful kitchen & bathroom. Steven, the owner of the company, was extremely helpful making the entire experience for me go smoothly. As he said "You don't have to do any worrying, I'll do it all for you." He was wonderful to work with. Phyllis Asman
Steven Meltzer is a consummate professional in every possible way. His intricate way of designing and collaborating is unlike anyone else I've encountered. Steven takes the time to get to know his clients down to the very last detail, often asking them which hand is their dominant, do they cook or order in predominantly, what are their favorite color palettes and so forth. Using these precise answers, he develops a plan to deliver a dream kitchen, bathroom and/or interior that fully suits the clients needs. I fully recommend Steven for all kitchen, bathroom and interior projects and can say with full conviction that you won't be disappointed by him or his work.
Abbey Weiss
April 21, 2021.
While we moved into a house with a newer kitchen-there were some changes we wanted to make, especially removing the microwave from above the oven and installing a hood and backsplash. Steven was amazing at answering all of our questions, providing us with different models of hoods to look at, and helping us figure out what would best fit our lifestyle. As an indecisive person, Steven worked with me as I narrowed down the search for the "perfect" backsplash. He gave feedback without being pushy or opinionated and we are thrilled with the results! We hopefully will use Abbey's Kitchens, Baths and Interiors again in the future--especially with that name 🙂
Linda and Stephen
September 28, 2020.
Steven was a pleasure to work with. Very detailed orientated with our bathrooms. Best contractor we have ever used. Very innovated and knew what we wanted for our taste. He is great!!!!
david barlow
September 4, 2018.
We are extremely pleased with our new kitchen and all of the work that was done. Steve thoroughly listened to and considered all of our needs at the start of the job, adding his own suggestions from experience, to make sure our kitchen design turned out to be everything we imagined. He was readily available for us to call throughout the process and frequently called us to make sure everything turned out exactly right, down to the smallest of details. The craftsmen Steve brought in to do the work were nothing but the best and extremely responsive. Much thanks to Steve and his team!
Ruby Johnstone
October 28, 2017.
Professional and patient from start to finish, Steven and his team created a dream of a master bath. My house is old with quirky details and Steven worked with me to ensure that the new bathroom would fit perfectly into the house's aesthetic. His attention to detail and commitment to customer satisfaction remains unmatched by any other contractor I have worked with. I look forward to hiring Abbey's for my next renovation project!
Eileen August
October 18, 2017.
We love our kitchen! Steve is a gem - always available in person or on the phone and led us all the way from planning to finish. Did lots of pre-shopping for us and had so many ideas we never would have thought of without his experience. The people with whom he works are all professional , trustworthy and courteous. He did an amazing job and we highly recommend Abbey's Kitchens and Bath for a smooth ride.
Yanxi Tan
October 17, 2017.
Steven was great when he helped us with our renovation of our house. In particular, he redid our kitchen and our bathrooms. He gave us lots of options and ideas, and even brought samples for us to check out while we were planning. He has always been helpful and reactive to our emails and phone calls. He really did a great job.
Free Consultation
Abbey's invites you to set up an appointment for a free design consultation. Ask us about our 2-year comprehensive warranty!