Your Kitchen & Working at Home
When you get up from your desk for a break from your job, now working from home, where do you go?
If you're like me, you head to the kitchen.
I never intended to work from home, and I actually miss my train commute to the city and seeing the folks in my office in person. So, my "office" here is pretty spartan.
My kitchen, however, is gorgeous. With custom cabinets, highly functioning pull-outs, great appliances, and a granite countertop that I love to run my hands over, it is a room of beauty. A few years ago, we decided to really renovate our tired, dark kitchen. Built in the '90's, the appliances needed to be changed and I hated the old sink!
After talking to several designers, we hired Abbey's Kitchens, Baths & Interiors. Steven Meltzer had the most experience and most creative ideas right from the start. He took the time to listen to some of my crazy ideas (and integrated many of them) – and even went with us to the suppliers to help us pick out tile, stone, lighting, etc. We would never have been able to do that ourselves and make sure everything all tied together.
The renovation went smoothly with Steven at the helm. And I now have the kitchen of my dreams. Even when I was commuting, coming home to my wonderful kitchen was something I looked forward to.
Thank you, Steven Meltzer of Abbey's Kitchens, Baths & Interiors!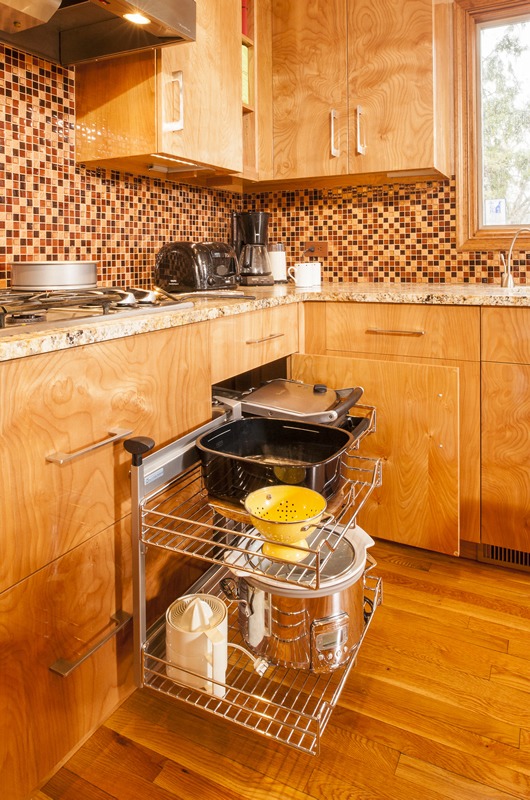 Design Notes from Steven:
This was an older design, dark cherry wood kitchen that felt very closed-in. The owners wanted a more open, bright and airy look which flows into the family room.
Here are some products we used:
Custom cabinetry that uses a red birch veneer, stained and sanded buttery smooth with an added ultra-high gloss Avenir finish to bring out the beautiful grain
Custom cabinet dividers and pull-outs by Hafele, allowing dish storage in base cabs (see home page video)
Hardware is stainless steel from Atlas Homewares
Granite countertops are texture-honed in a matte finish, supplied by Bedrock Granite (Shrewsbury NJ)
Integrated dining area tabletop is a quartz surface by Caesarstone (Israel)
Rangetop & wall ovens by Dacor
Recessed ceiling downlight lighting uses low voltage MR16 lamps with Lutron dimmers
Island pendant lighting is custom-made by a local glass artisan. Lutron dimmers used here also
Undercabinet lighting by Task Lighting, as well as custom under-cabinet Angle Power Strip electrical outlets
Backsplash is glass tile supplied by Standard Tile (East Hanover, NJ)
Walls were custom painted by Ginny Vincz. (Ask me for contact information)
What do you dream about doing with your Kitchen or Bathroom?
How can I help develop your ideas into something fantastic?
Email or call me with your ideas.