Abbey's is featured in this New Jersey magazine
Give the gift of a kitchen or bathroom remodel for 2022!
Now is a great time to plan for your kitchen and bathroom remodeling project!
Call Abbey's for a pre-project consultation.
Want it to be a surprise for your significant other? Call us – we will send you a card announcing your upcoming remodeling project.
THIS is the perfect holiday gift for someone special!! Call for more information, 201-823-2223

Big news for Abbey's Kitchens, Baths & Interiors
The Fall 2021 Kitchen issue for "House & Homes magazine, North Jersey" is out to homes across northern NJ – and Abbey's is featured on the cover along with a very nicely written article on page 29.
We're excited to share this with you!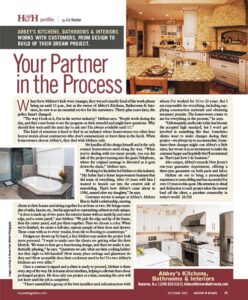 Tap to read the article online
What do you dream about doing with your Kitchen or Bathroom?
How can I help develop your ideas into something fantastic?
Email or call me with your ideas.